Educational School & Group Tours at Apple Castle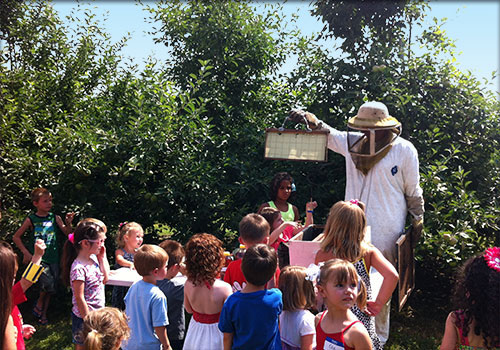 Our educational school tours help children understand how much care and effort is involved in bringing delicious, healthy food to their table. The approximately one hour tour includes:
Ride a wagon through the orchard, stimulating your senses with the beauty of fruit on the trees and vegetables in the fields.
Watch apples get all shiny with a demonstration of our apple washer and sizer.
Walk into the apple refrigerated storage room where each person receives an apple to eat.
Learn the buzz about our favorite friend – the honeybee
Each child receives a coloring book, a pencil, and a fall gift such as a small pumpkin or gourd.
Pricing
Tours are $4 for each child and $2 for each adult. Teachers are free!
There is a minimum $40 charge per group.
Reservations

Our tours are on a first come first served basis and are by reservation only. Online reservations are not final until you receive a confirmation.
Register today to secure your spot!