Our Story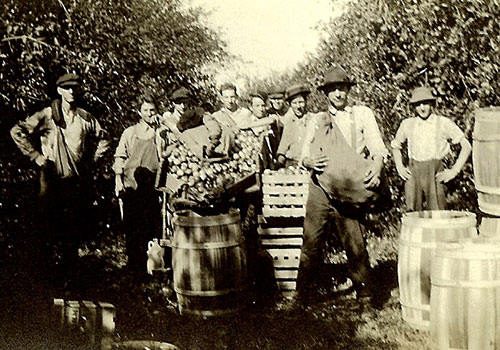 Few farms have the longevity and tradition of Apple Castle, a family orchard that has been growing apples for over 150 years. Six generations of the Johnston family have dedicated their lives to growing apples and the lifestyle that goes with it, and as a seventh generation appears on the scene, the family shows no signs of slowing.
Through the generations, Apple Castle has always strived to provide high-quality fruit and vegetables at fair prices.In 1861, Josiah Smith Johnston settled along what is now Route 18 in New Wilmington. The original plot was much larger, but included the land the family still lives on and operates today. The original operation included both an orchard and dairy cows.
The Beginning of Our Market
Four generations later, Ralph Johnston and his wife, Ruth, decided to focus solely on fruit production. Thus, the dairy cows were sold; and Apple Castle, the first formal retail market, was opened in 1950.

Ralph and Ruth created the name Apple Castle with two points in mind. First, the store's proximity to New Castle; and secondly, the apple is the "king of fruit" and is therefore fit to be housed in a castle. The original market is the small front room, along Route 18, of the white building.
Ralph & Ruth's son, Lyle and his wife Sandy, became the fifth generation to live and work on the farm in 1978.
Continuing the Legacy
The current farm market was constructed in 1982 which enabled Apple Castle to increase its product offerings and add the much loved donuts.
In 2011, Lyle & Sandy's youngest son Steven returned to New Wilmington as the sixth generation to live and work on the farm. Steven, his wife Ashley, and two daughters Abby and Sadie look forward to continuing to provide the community with the quality produce and service they have grown to love.
We look forward to meeting you on your visit!
- The Johnston Family